Bunkhouse
Bunkhouse Rental, Horse Boarding, and Wildlife Viewing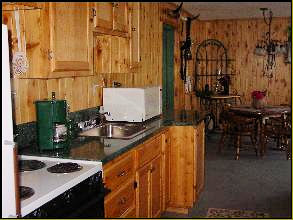 See wildlife in their natural habitat including Whitetail Deer, Turkeys, and Rabbits. Our location is on private land near farming and grazing land. The wildlife are not penned, all are free roaming.
Bunkhouse Accommodations:
– Sleeps 5 people comfortably
– Full kitchen
– Family room
– Two bedrooms
– One bathroom
– Air Conditioning

Horse Boarding
We have boarding available for private-owned horses.
Call 989-356-4069 for prices and availability.
Other Points Of Interest:
Fishing
Thunder Bay River boat launch for fishing, two thousand acres of flood waters, located 2 miles from the ranch.
Snowmobiling
Snowmobiles are welcome with a designated snowmobile trail located 2.5 miles from Bunk House accessible by a county road.
Scuba Diving/Snorkeling
Wonderful scuba diving or snorkeling opportunity. The Federal Government has designated Thunder Bay a National Marine Sanctuary, an underwater national park. This is the only freshwater sanctuary in the United States. Charter services are available in the City of Alpena 6.5 miles from the Bunkhouse.

Attractions within fifteen miles:
Great Lakes Maritime Heritage Center
Great Lakes Light House Museum
Jesse Besser Museum & Planetarium
Norway Ridge hiking/cross country ski trails
Thunder Bay Theatre /professional live
Excellent local restaurants
HHH Ranch
5868 Dietz Road
Alpena, MI 49707